Flexacoin
An analysis on Flexa, a network for crypto payments
Disclaimer
Token Tuesday's are not meant to be taken as financial advice. Fitzner Blockchain Consulting The content below references an opinion and is for information purposes only. It is not intended to be investment advice. Seek a duly licensed professional for investment advice. We encourage all of our readers to conduct their own research and invest at their own risk.
Introduction
In order for digital assets to reach the mainstream, people need to be able to easily spend cryptocurrencies at their favorite stores. When it comes to a robust retail payment infrastructure, Flexa provides the much needed solution the industry has long been searching for.
Flexa establishes an open standard for seamless cryptocurrency payments in retail stores and online marketplaces. Unlike competing services, Flexa allows merchants to accept a host of cryptocurrencies all while preserving security and data privacy. Vendors are paid in their local fiat currency and best of all, the network doesn't require merchants to pay transaction fees, use physical cards or upgrade their point-of-sale systems.
SPEDN
In order to connect consumers to merchants in an intuitive fashion, Flexa developed their first application, SPEDN, to do just that. Since it's launch at Consensus in May, 5,000 users have registered to the SPEDN public beta on iOS with Android support being rolled out last month. As of writing, Flexa currently supports payments at 30,000+ retail stores including Barnes & Noble, Nordstrom, Crate & Barrel, Office Depot, Lowe's, Dunkin Donuts and Whole Foods.
How Does it Work?
Flexa leverages a unique form of closed-loop payments to provide a seamless transaction process. Using traditional QR codes, Flexa verifies a user's cryptocurrency balance against a public index rate and generates a proprietary flexcode for payment. The two primary components delivered through the Flex Wallet SDK include:
FPAN - A flexible primary account number used as a one-time authorization by merchants to debit local fiat currency against the selected cryptocurrency wallet balance.

Flexcode - A proprietary and backwards compatible barcode format that is scannable by standard point-of-sale barcode readers. Each flexcode conveys the FPAN with any user authorized metadata through the merchant's point-of-sale system.
Flexa payments do not require near field communication (NFC) like traditional payment cards nor tap-to-pay implementation timelines or transaction limits. This greatly reduces the network's risk as compared to other cryptocurrency payment solutions.
Why Create a Token?
Flexacoin ($FXC) is Flexa's native token used as collateral to support seamless cryptocurrency transactions via the SPEDN application. For each transaction that occurs on the network, FXC is used as a proxy to front fiat currencies to a merchant. When the transaction is processed, Flexa receives the cryptocurrency that was spent and issues fiat to the merchant thanks to its partnership with Gemini.

For individual token holders, FXC can be staked within SPEDN, granting the owner rewards based on overall transaction volume.* At the time of writing, Flexa currently supports payments in Bitcoin ($BTC), Ethereum ($ETH), Bitcoin Cash ($BCH), Litecoin ($LTC) and Gemini Dollars ($GUSD).
*Please note that staking is currently not available and is expected to be rolled out towards the end of 2019.
Background
The New York-based project was founded in 2018 to "pioneer payment networking". Rather than hosting a traditional ICO, the team conducted a private sale for $14.1 million in funding, led by Pantera Capital, 1kx, Nima Capital, Access Ventures, and other strategic partners. Based on the information that 12 billion tokens were sold in the private round, we can assume that investors purchased the assets at an average of $0.001175/FXC.
Team
Flexa currently lists four co-founders on their website with Tyler Spalding leading the team as CEO. Prior to founding Flexa, Tyler has had extensive experience as a serial entrepreneur and CTO for two other startups (Raise and Tastebud Technologies) combined with lead engineering roles for the United Space Alliance, US Air Force, and NASA's Space Shuttle Program.
Other notable positions include Trevor Filter's time as a Senior Product Manager at American Express, Zack Kilgore's role as a front-end engineer for Warby Parker and Ryan Records involvement with the rollout of Starbuck's mobile application.

All in all, out of the 8 team members currently listed, 6 of them have extensive development experience with the other two members playing crucial roles surrounding the onboarding of new merchants.
Token Characteristics:
Max Supply: 100,000,000,000 FXC
Circulating Supply: 16,424,427,128 FXC*
Protocol: Ethereum (ERC20)
Token Supply Notes: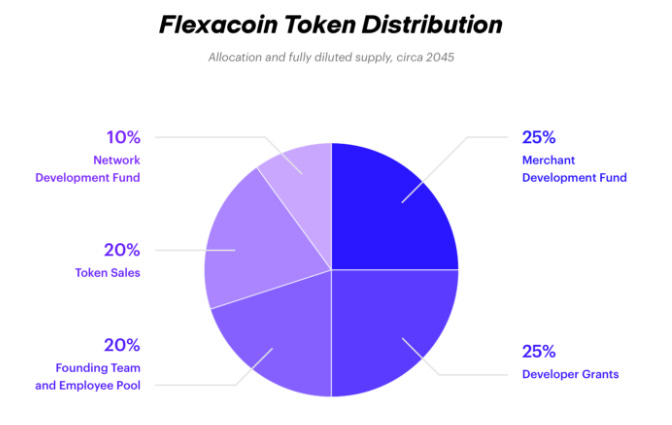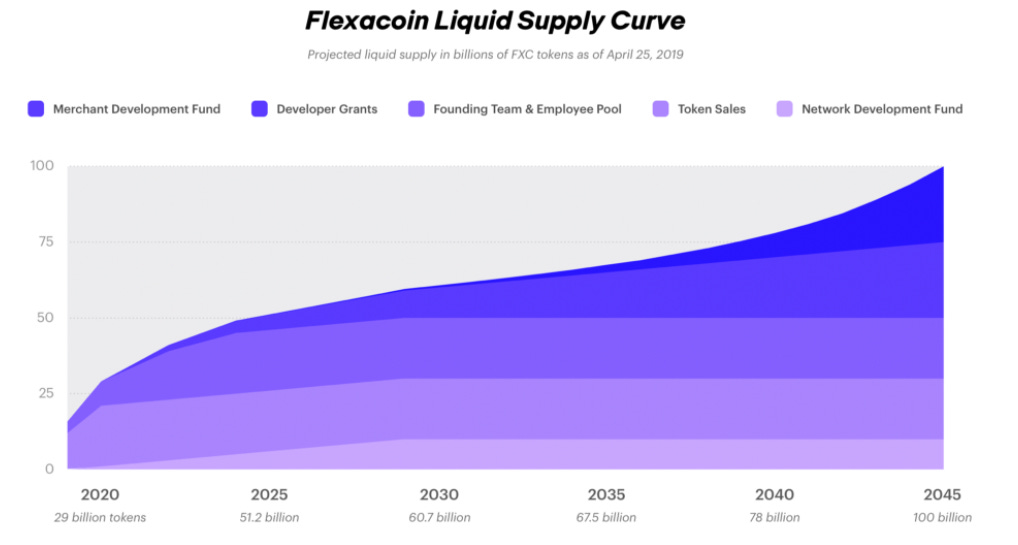 *On May 1, 2019, the liquid supply will increase to 15.75 billion tokens, as the first tranche of team tokens vests; and the next major increase in liquid supply will occur on January 4, 2020—when the token sale vault unlocks, and an additional 4.5 billion tokens become available for circulation (on this date, inclusive of additional vested team tokens, the liquid supply is estimated to be 26.37 billion FXC)
Future Developments

In a recent post, the team announced that Flexa will be launching in its first major market outside the United States in the coming months. Combined with a recent listing on Bittrex International, token holders should expect updated information surrounding FXC staking and rewards in the near future.

Asset Implications
As stated above, Flexacoin's primary use is as collateral to secure network transactions. Unlike many other currencies, FXC is not intended to be used as the primary payment mechanism and can be compared to the role that MKR plays as a form of last-resort collateral in the MakerDAO ecosystem.
As such, price volatility does not have an adverse (or beneficial) effect on partnered merchants. With this in mind, FXC's current use-case may have security implications as individuals purchasing the token on secondary exchanges are likely to do so in order to earn rewards and future profits by staking in the SPEDN app.
Network Potential
Global digital commerce sales are expected to reach $6 trillion by 2022 while mobile commerce transactions are expected to surpass e-commerce sales by the end of 2019. The consumer economy is booming and Flexa's potential market isn't getting any smaller. With the rise in consumer commerce supplemented by the impending adoption of the blockchain technology, Flexa's position in the market to capture crypto payments is nothing to take lightly.
Given that the numbers surrounding staking rewards has yet to be released, it's nearly impossible to provide concrete numbers regarding valuations.
Risks
While Flexa has certainly established a very robust payment mechanism, their current system places heavy reliance on Gemini to issue spot-rate conversations and ensure that transactions are processed and liquidated properly.

With no mandatory KYC requirements necessary to use the SPEDN application, there remains an ongoing risk that FXC may be deemed a security by the United State's SEC at some point in the future.
Flexacoin is currently only listed on a number of obscure exchanges with only 16% of the total supply circulating on secondary markets. As such, retail investors should note that around 10B FXC will be added to the circulating supply come January 4th of 2020. While the majority of unlocked tokens (5.5B) will be held by core team members, there remains a risk that circulating supply being increased by ~63% will likely create strong sell pressure and reduced demand impact.
We would also like the note that the current 24h volume for FXC is dangerously low - trading less than $10,000 per day. Again this is largely due to FXC not being traded on major exchanges. We expect this would drastically change upon the network launch and FXC is being used on a daily basis as collateral for payments at thousands of retailers across the United States and the rest of the world.
Conclusion
Given it's large target market, the robust payment system and the depth of the core team and strategic partners, Flexa is in a great position to bring cryptocurrency payments to the mainstream. The key here is that this can occur without merchants even knowing in the first place that they're accepting crypto transactions.
As the network continues to push towards a full mainnet release, we are eagerly waiting to see what the economic models will look like for staking FXC on the network. With a reported market cap of only $75M as of writing, Flexa has plenty of room to grow assuming it succeeds in reaching the fully envisioned network. Moreover, the fact that FXC is not traded on any of Messari's Real 10 exchanges (Binance, Coinbase, Gemini, etc.) provides a unique opportunity for investors to capitalize on the lack of liquidity - especially given their close ties with Gemini.
All in all for our first Token Tuesday's, we are excited to outline the innate potential for Flexacoin to proliferate as a leading payment network for crypto transactions in the future.
Sign up so you don't miss out on the next Token Tuesday!
---
Writers: Cooper Turley — https://twitter.com/Cooopahtroopa
Lucas Campbell — https://twitter.com/0x_Lucas
---
Official Social Accounts: Twitter, LinkedIn, Facebook, Instagram
Website: http://fitznerblockchain.consulting/
---
Resources:
https://flexa.network/whitepaper.pdf
https://medium.com/@PanteraCapital/pantera-blockchain-letter-july-2019-da863692065d
https://www.coindesk.com/crypto-stripe-flexa-raises-14-million-so-you-can-buy-coffee-with-bitcoin
https://www.crunchbase.com/funding_round/flexa-initial-coin-offering--4e14e5a6#section-investors
https://medium.com/flexa/introducing-flexacoin-b4c8099e3a91
https://www.reddit.com/r/Flexacoin/comments/bf77ft/afa_ask_flexa_anything_thread/
https://medium.com/flexa/how-flexa-payments-work-e41feb1763ab