Learn how social tokens are silently sweeping crypto creative communities by storm.
To the Token Tuesdays faithful,

This week's edition comes with a big announcement.
Starting today, Token Tuesdays is now independent.
As a subscriber, nothing about the newsletter will change. The only difference is that this outlet will slowly integrate more and more web3 native primitives, ultimately moving towards a future in which all content is token-permissioned.
For now, I'll be turning off monetization and focusing on one pillar article per month. All articles will be free and will cover a number of projects.
Please hear me when I say a new wave is coming, and that I've never felt more confident in helping to shape it.
With that, let's get into the magic.
——————
Social tokens are here to stay.
Personal tokens, community coins, creator coins, you've likely heard it all. While the name isn't important, the premise underpinning the collective whole is.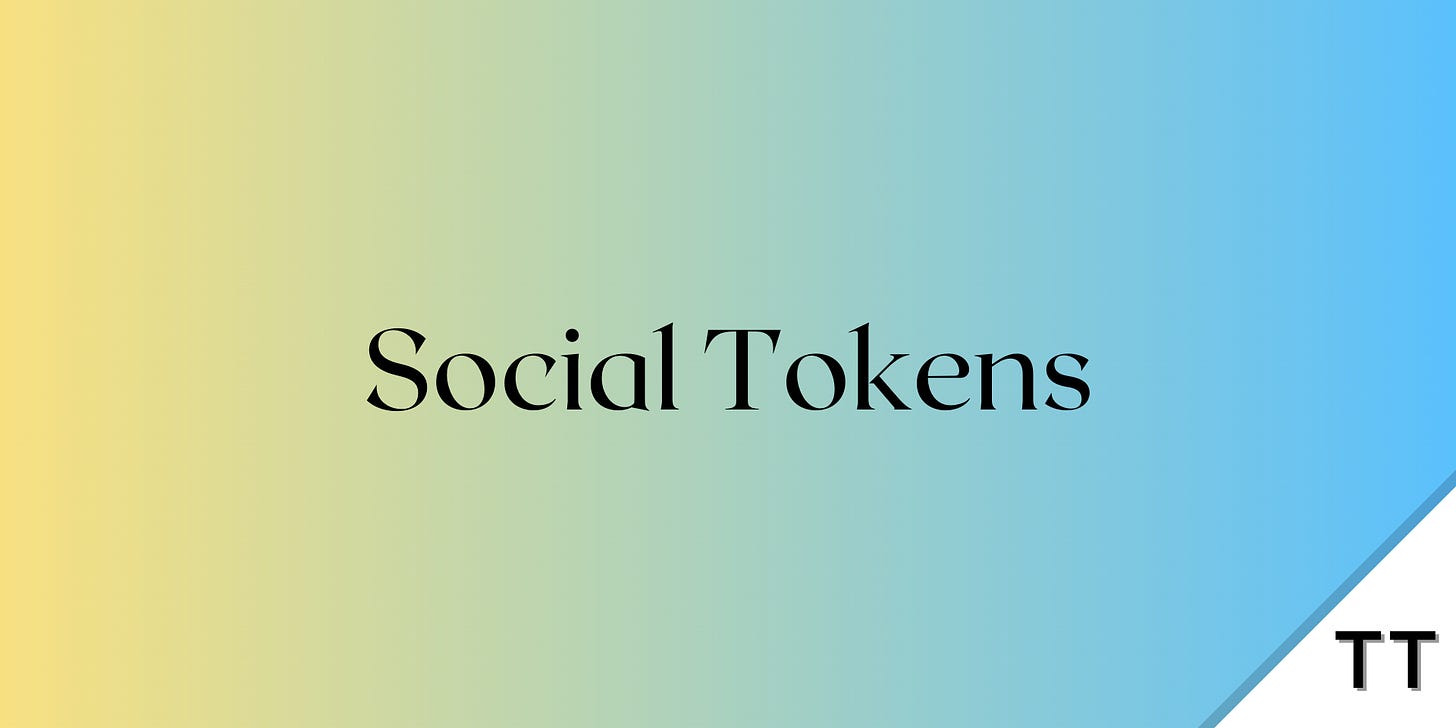 Characterized as tokens that derive value from the growth of shared communities, social tokens are leveraging the most enticing aspects of web3 with new narratives around adoption, viral marketing, and ownership.
In the past few months, I've doubled down on social tokens.
This all started when I created the Personal Token Agency - a management collective to establish best practices around social tokens working alongside crypto-native creators.
At that point, the social token ecosystem consisted of a handful of experiment-friendly creators like Alex Masmej ($ALEX), Brian Flynn ($JAMM) and Andrew Lee ($KARMA).
While these were not the first social token creators, they were the first to treat it as more than an afterthought, marking a tipping point for me and my curiosity around the topic.
Since then, we've seen an explosion of high-profile creators go live with their own social tokens, including but not limited to:
Coin Artist ($COIN)

Whaleshark Pro ($WHALE)

RAC ($RAC) < Alpha

Evan Van Ness ($EVAN)

Spencer Dinwiddie (Calaxy)

Friends With Benefits ($FWB)

Pak ($PAK) (SoonTM)
While the list goes on and on, the key takeaway here is that social tokens are no longer a hobbyist trend, it is a thriving sector that is very much here to stay.
Whether it be the overlay of governance, composability, and adoption-driven development or the simple narrative of 'share in the upside of your favorite creator or brand', social tokens are the next logical stepping stone in bringing web3 to a mainstream audience.
What's Next?
This Thursday, I'll be releasing a thought piece on Bankless called 'The Bull Case for Social Tokens'. I'll touch on the extensive issuer ecosystem that's emerging, the suite of distribution tools rising with it and the aggregators tying them all together.
Until then, trust me when I say this is the most exciting sector I've seen since the early days of DeFi, and one you don't want to be sleeping on in the coming months.
With an incredibly nascent, yet highly intuitive set of tools of protocols quickly creating the foundation for social tokens to thrive, the upside to be capture as an early adopter of active social communities is one set to rival the biggest DeFi runups of the past year.
For now, I'll leave you to check out the Forefront market for a glimpse into some social tokens worth keeping an eye on.
See you next Tuesday!
Disclaimer: All information in this newsletter is purely educational and should only be used to inform your own research. Token Tuesdays does not offer investment advice, endorsement of any project or approach, or promise any outcome. This is prepared using public information and does not account for anyone's specific goals or financial situation.