Basic Attention Token (BAT)
An Analysis on Brave and the BAT token

Introduction
In a world where advertisements are integrated into virtually every facet of digital technology, it's interesting to consider a browsing experience that doesn't require you to see any ads or commercials. Taking this a step further, existing advertisements are rarely beneficial except for rare cases when the product being sold is one of interest. 
From a business perspective, the advertising economy is comprised of many middleman with a lack of cross-platform communication. Without going into too much detail, a variety of factors result in high costs for advertisers when trying to effectively monitor brand campaigns. This often results in users being subjected to negative externalities (in terms of quantity and quality) when viewing ads today.

With these points in mind, this article will be covering Basic Attention Token (BAT), a digital currency used to incentivize the viewing of advertisements. Ads on Brave are opt-in, meaning that you only have to view them if you so choose. Better yet, if you do view an ad, you're rewarded in the form of Basic Attention Tokens.

While BAT is not necessarily a "new" cryptocurrency, we've seen strong signals that BAT may continue to gain a foothold as one of the more reputable tokens based on a number of solidified use-cases and strong partner support. 
Background 
Basic Attention Token (BAT) is the primary currency used on Brave browser, an open-source, privacy-focused browser similar to Google Chrome or Safari. Brave is the brain-child of Brendan Eich, the inventor of Javascript and Mozilla (better known through Firefox) and Brian Bondy, the project's CTO. Brave browser was launched in June of 2016 with support for BAT being integrated in the latter half of 2017.

Since its launch, Brave has integrated the ability for users to tip on Twitter and on Reddit. This feature was obviously restricted to users on Brave who had enabled Brave Rewards, but nonetheless this was a major milestone for an enhanced use-case for BAT tokens.

More recently, a partnership with Uphold allowed users to take their rewards out of Brave and convert it to other digital assets. This was a big step forward as the previous version was unidirectional, meaning that users who earned BAT could only send it to other users on Brave.
Token Overview
Generally speaking, Brave ads can be thought of as a two-sided marketplace between advertisers and users in which brands purchase BAT (an ERC20 token) to fuel their campaigns. As of writing, BAT is distributed as a rewarded everytime an ad notification is viewed. In the future, the Brave team is planning on integrating engagement-based rewards where each advertisement may have a specific budget that is distributed to viewers relative to some engagement metric, like how long they viewed the video.

Beyond this major use-case, BAT is also used to compensate content creators and publishers for their role(s) in the advertising placement experience.

BAT is currently one of the more liquid cryptocurrencies with trading pairs on many of the most well-known exchanges including Binance, Coinbase Pro, Bithumb and Upbit.
Token Distribution
Seeing as the Brave founders brought an extensive amount of reputable experience to the table, the BAT token sale went on to be one of the more prominent ICOs in 2017. On May 31st, 1 billion BAT tokens were sold to a combination of public and private investors while another 500 million BAT was allocated towards the company. The project raised an estimated $36M with participation from distinguished funds such as 1confirmation, Pantera Capital, and Digital Currency Group (DCG).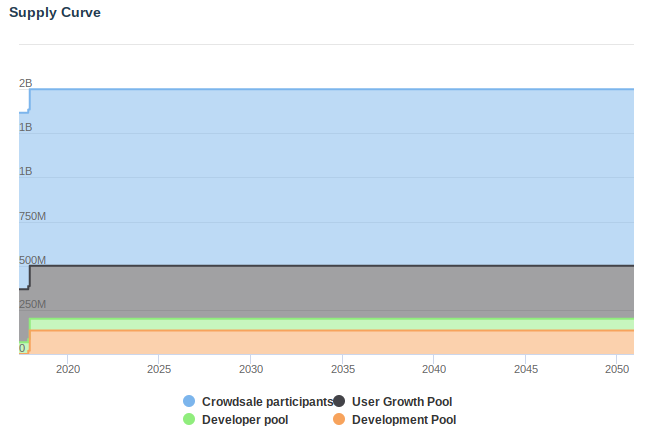 It is important to note that 300 million of that 500 million BAT allocated for the company is set aside for a user growth pool. According to the whitepaper, the endowment will be used to reward early adopters of the Brave browser and to reward participation in the BAT ecosystem. Any unused BAT after an extended period of time is sent back to the user growth fund to be redistributed at any point in the future. Once the growth pool is exhausted, no new tokens will be created. 
Token Potential
With Google and Facebook essentially representing an oligarchy in the digital advertising industry, the market is primed to be disrupted with new and innovative technologies. User attention is valuable. But it hasn't been properly priced with an efficient and transparent market system. With this in mind, digital advertising spending has surpassed traditional advertising spending in 2019.

According to an article by Adweek, nearly $129 billion dollars is going to be spent on digital advertising campaigns this year alone. With hundreds of billions of dollars in potential revenues for Brave and its ecosystem, there's no shortage of an addressable market for the Basic Attention Token. Moreover, by the looks of it, the Brave Browser is just beginning to enter the "hockey-stick" growth phase with its explosion of user and publisher interest in the past two years.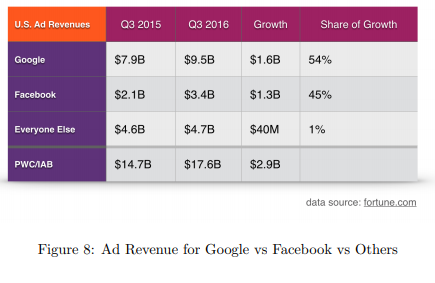 Table via Brave whitepaper
In early 2019, Brave highlighted its recent success of a 5x year-over-year increase in monthly active users, reaching 5.5 million MAU by the end of 2018 (up from 1.1 million) with over 280,000 verified publishers. The browser has improved tremendously since its launch in 2017 with major product redesigns and additional use-cases for BAT. And it's beginning to show. 
Brave has seen a surge in usage in the browser in 2019 along with a massive increase in the number of publishers. As it stands today, Youtube is the largest publisher platform with over 203,000 individual publishers. On December 31st, 2018 there were only 23,000 publishers on Youtube, representing a 742.65% increase year-to-date (YTD).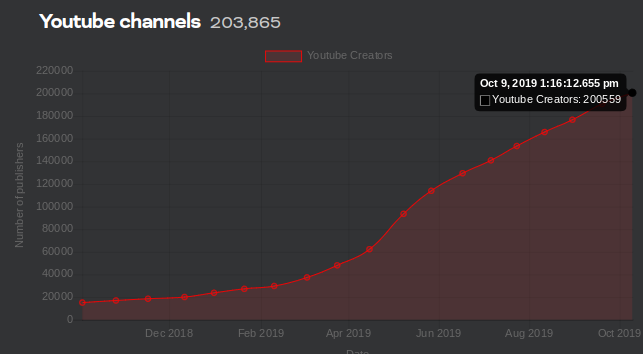 Graph via BATGrowth
Website publishers have also seen a large increase in 2019. At the beginning of the year, Brave only had 9,700 websites using Brave as an advertising platform. Now, there are well over 33,000 websites leveraging the Brave Browser and its digital advertising campaigns. With this, website publishers have increased by 241% year-to-date (YTD).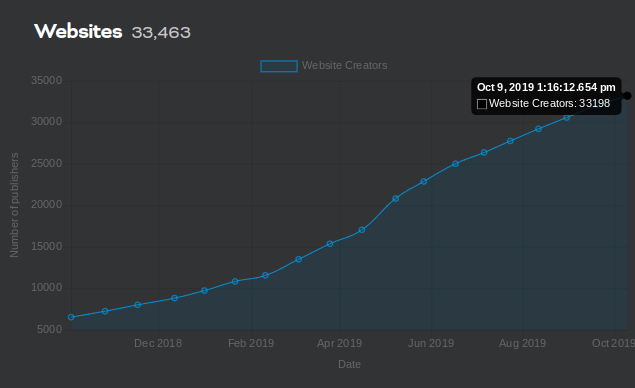 Graph via BATGrowth
Given that crypto twitter (CT) is a large part of the crypto community, Brave was quick to introduce tipping and other features into the platform. In particular, Twitter saw tremendous publisher growth since its integration in May of 2019. With this, Brave has nearly eclipsed 28,000 unique Twitter publishers while reaching a 1,213% growth rate in less than 6 months.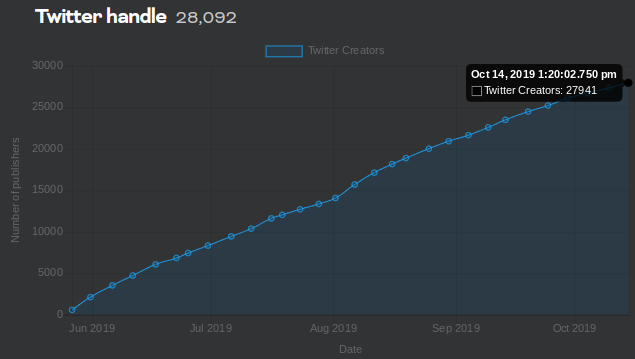 Graph via BATGrowth
Other Brave publisher platforms include Twitch, Reddit, Github, and Vimeo which have also seen impressive growth in the past year. 
It goes without saying that Brave is beginning to see exponential growth across the board. New publishers are joining the ecosystem in droves to reap the benefits of increased revenue. Advertisers are launching new campaigns with better conversion rates compared to the saturated competition on other platforms such as Google and Facebook. This all comes together in the midst of the privacy issues in the world where users are likely to be more concerned with their data than before. 
All of these factors combine to create an intriguing case for prospective investors of the BAT token. On a macro level, the increasing amount of publishers, users, and advertisers on the platform signals an increase in demand for the underlying token. With this in mind, we've also seen other positive signals for BAT outside of the Brave ecosystem that could have an effect on the price action. 
Ecosystem Support 



As mentioned in our introduction, we've seen a number of positive signals that BAT could continue to garner attention in the coming year. In particular, BAT is said to be the first new asset supported in the upcoming release of MakerDAO's Multi-Collateral Dai this November. For those unfamiliar, this means that BAT will be able to be staked as a proxy to take out a permissionless loan in the form of the DAI stablecoin.

This is important as this mechanism introduces a means for BAT to be locked via smart contracts, reducing the circulating supply on the open market. While we recognize that the demand for BAT as a form of collateral is likely minimal, it's important to recognize that out of all the possible assets to choose from, BAT was selected as one of the most viable ERC tokens on the market.

Furthermore, BAT has also been integrated into various DeFi platforms such as Compound, signaling that it *should* continue to be supported on any new Ethereum-based products moving forward.
Drawbacks & Concerns
While the partner network and liquidity for BAT have seen strong improvement in the past year, it's worth noting that the existing token economy could definitely be improved. As it stands today, there are currently no holding or staking mechanisms in place for the underlying Brave Reward system itself. Similarly, there are no existing burn mechanisms and while the growth pool provides a strong foundation for adoption in the next few years, it's unclear how the ecosystem would attract new users in the event that all growth tokens were distributed.

More importantly, the long-term success of BAT is entirely reliant on the success of Brave browser, a product that at this point in time is largely only seen as valuable to those aware and concerned about privacy. Seeing as BAT is an ERC20 token, it's also reliant on the success of Ethereum and its upcoming transition to Serenity via ETH 2.0. All and all, the fact that the token is reliant on a number of somewhat nascent platforms is definitely worth noting.
Conclusion 
As we've stated throughout the article, the concept of monetizing advertising engagement is novel, to say the least. We believe that if Brave can continue to grow in the coming years, BAT may see a strong upside through increased demand from publishers and advertisers.
If you're looking to learn more about BAT and how it works, we recommend checking out this Coinbase Earn campaign for a chance to claim some free BAT.

In the meantime, be sure to stay up to date with the project through the official blog or through the community Telegram channel.
---
Writers: Cooper Turley, https://twitter.com/Cooopahtroopa
Lucas Campbell, https://twitter.com/0x_Lucas